A US-based researcher visits the Karbala Center for Studies and Research
02:40 PM | 2022-04-04 542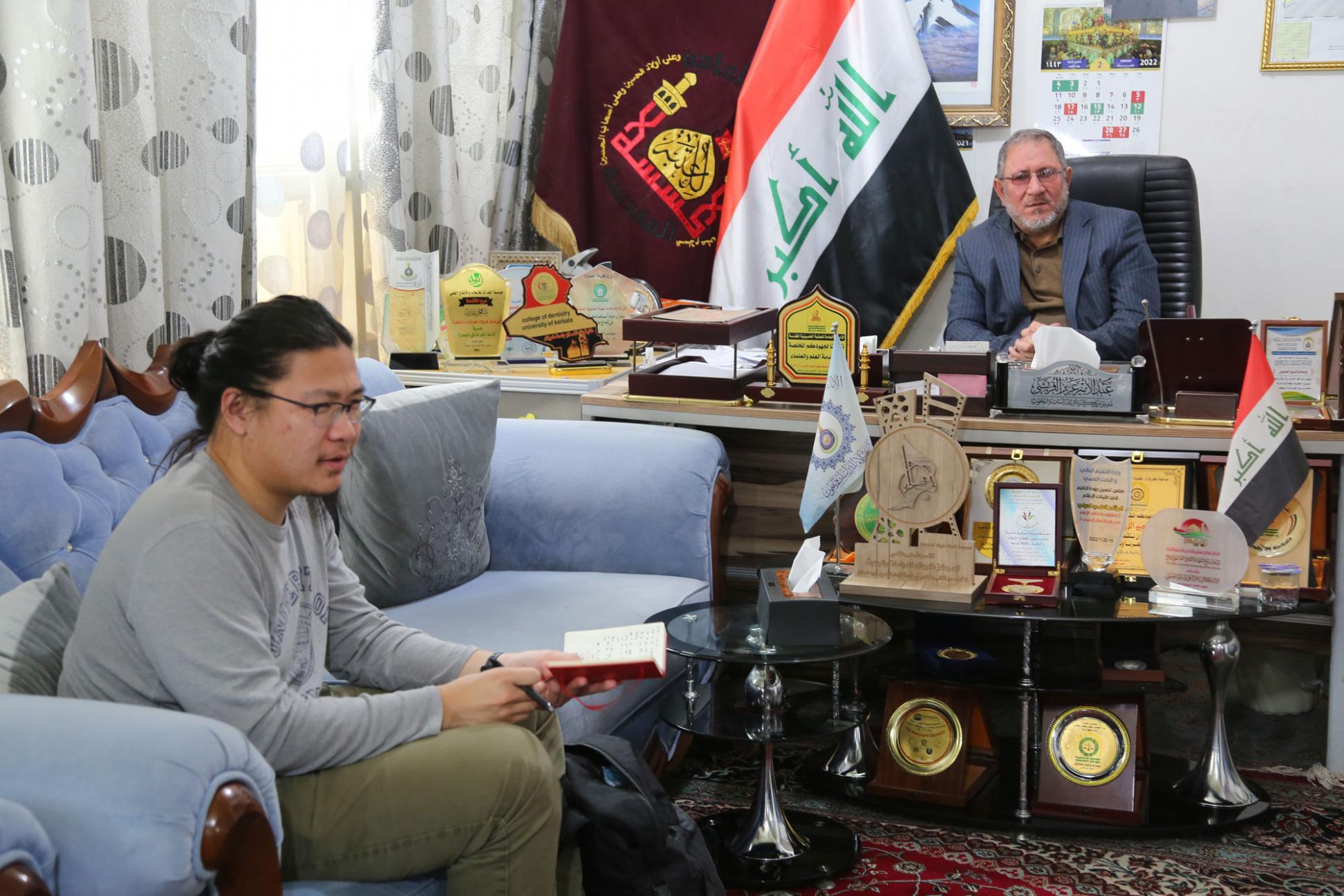 On Tuesday and Wednesday, March 22 and 23, 2022 AD, the Karbala Center for Studies and Research at the Holy Shrine of Imam Hussein "AS" received a researcher specializing in Husseini mourning ceremonies, coming from the United States of America.
The US-based researcher of Chinese descent, "Peixing Wang", said in an exclusive interview that he "began to pay special attention to the study of Husseini mourning rituals like chest-beating aka "Latmiyah" and poets aka "Qasaied" Husseini rites after his visit to the provinces of northern Iraq last year with the aim of preparing a master's thesis on the political situation in the country.
Mr. Wang changed his mind after visiting a number of Husseiniyas belonging to the Faili Kurds in the city of "Mandali" as they were commemorating the Ashura tragedy," adding that "he went from there to the holy city of Karbala to see the activities related to this occasion."
Wang, who is a master-degree-student ay New York University, has expressed admiration for the achievements made by the Karbala Center for Studies and Research regarding the scientific and research fields, such as awarding it with the official certification of approval by UNESCO's "The Memory of the World Regional Register For Asia/Pacific" on 15 May 2014 as the first entity of its kind in Iraq to receive such acknowledgment, in addition to the KCSR's continuous efforts to publicize the holy city of Karbala and the Husseini cause in general, which culminated in the year 2019 with the registration of the Arbaeen pilgrimage within the list of UNESCO's human heritage.
In the sideline of the meeting, the researcher indicated that "during his visit to the holy city of Karbala, he received a number of praises from the parties he met within the context of writing his specialized research, at the Karbala Center for Studies and Research, as a research institution that is the most prominent and important in relation to the historical and cultural heritage of the city of Karbala, and to the Husseini rituals."
At the conclusion of the visit, the administration of the Karbala Center for Studies and Research presented a number of scientific and research publications issued by the center to the visiting researcher, wishing him success in his scientific endeavors aimed at shedding light on the immortal Husseini cause in general, and on the holy city of the master of martyrs, "peace be upon him" in particular.