Why fasting is now back in fashion?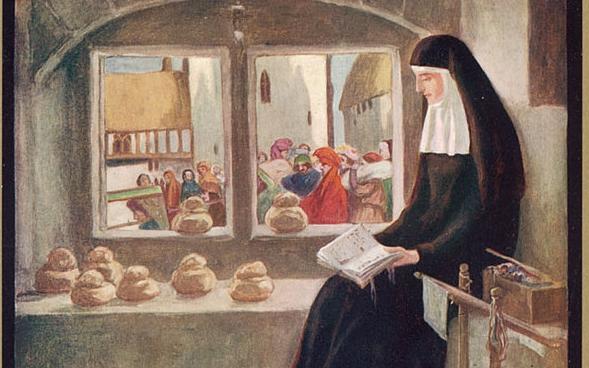 Devotees of fasting have long claimed it brings physical and spiritual renewal. Now, with the success of the 5:2 diet, its benefits are reaching a wider audience and demand for supervised fasting is growing
According to Telegraph.co.uk, in ancient Greece, Pythagoras was among many who extolled its virtues. During the fourteenth century it was practised by St Catherine of Siena, while the Renaissance doctor Paracelsus called it the "physican within". Indeed, fasting in one form or another is a distinguished tradition and throughout the centuries, devotees have claimed it brings physical and spiritual renewal
In primitive cultures, a fast was often demanded before going to war, or as part of a coming-of-age ritual. It was used to assuage an angry deity and by native north Americans, as a rite to avoid catastrophes such as famine.
Fasting has played a key role in all the world's major religions (apart from Zoroastrianism which prohibits it), being associated with penitence and other forms of self control. Judaism has several annual fast days including Yom Kippur, the Day of Atonements; in Islam, Muslims fast during the holy month of Ramadan, while Roman Catholics and Eastern orthodoxy observe a 40 day fast during Lent, the period when Christ fasted 40 days in the desert.
Women in particular seem to have had a proclivity for religious fasting, known as "anorexia mirabilis" (miraculous lack of appetite); surviving for periods without nourishment was regarded as a sign of holiness and chastity. Julian of Norwich, an English anchoress and mystic who lived in the fourteenth century used it as a means of communicating with Christ. In other belief systems, the gods were thought to reveal their divine teaching in dreams and visions only after a fast by the temple priests.
It has also long been used as a gesture of political protest, the classic example being the Suffragettes and Mahatma Gandhi who undertook 17 fasts during the struggle for Indian independence: his longest fast lasted 21 days.
But the practice has also had its dark side, having been exploited by exhibitionists and fraudsters, and foisted on the gullible. Take "Doctor" Linda Burfield Hazzard, from Minnesota, thought to have caused the death of over 40 patients whom she put on strict fasts, before being convicted of manslaughter in 1912. She died from her own fasting regime in 1938. Then there were the Victorian "fasting girls" who claimed to be able to survive indefinitely without food; one of them, Sarah Jacobs, was allowed to starve to death aged 12 as doctors tested her claims in hospital.
Therapeutic fasting - in which fasting is used to either treat or prevent ill health, with medical supervision – became popular in the 19th century as part of the "Natural Hygiene Movement" in the US. Dr Herbert Shelton was one revered pioneer, opening "Dr Shelton's Health school" in San Antonio, Texas, in 1928. He claimed to have helped 40,000 patients recover their health with a water fast.
In the UK, too, fasting became part of the "Nature Cure", an approach which also stressed the importance of exercise, diet, sunshine, fresh air and "positive thinking".
"Fasting was at its most popular here in the 1920s," according to Tom Greenfield, a naturopath who runs a clinic in Canterbury. "The first Nature Cure clinic to offer fasting opened in Edinburgh and I still have one or two patients who fasted there many decades ago."
Other clinics which offered therapeutic fasting included the legendary Tyringham Hall in Buckinghamshire, now closed, and Champneys in Tring, Hertforshire – in those days a naturopathic centre, now a destination spa.
"Fasting was used to treat heart disease, high blood pressure, obesity, digestive problems, allergies, headaches – pretty much everything," says Greenfield. "Fasts were individually tailored and could be anything from a day or two to three months, for obese patients. The clinics would take a full case history to see if people were suitable and they would be closely monitored."
Eventually, he says, "scientific" medicine became dominant as better drugs were developed: fasting and the "Nature Cure" fell out of favour in Britain. By contrast, in Germany where fasting was pioneered by Dr Otto Buchinger, therapeutic fasting is still popular and offered at various centres. Many German hospitals now run fasting weeks, funded by health insurance programmes, to help manage obesity, while fasting holidays at centres and spas throughout Europe, include Hungary, the Czech Republic and Austria, are growing in popularity.
"In Germany fasting is part of the naturheilkunde – natural health practice," says Greenfield. "It has remained popular because it became integrated into medical practice so patients could be referred for a fast by their doctors."
More recently, interest in fasting has revived in the UK, with millions trying intermittent fasting such as the 5:2 diet, or on modified fasts where only certain foods or juices are taken for a period.
Greenfield welcomes the renewed interest and says: "If people can do a one day fast for a minimum of twice a year – maybe one in spring and one in the autumn and setting aside a day they can rest, when they just drink water – this will help mitigate the toxic effects of daily living."