The story of Karbala was written by Imam Hussein's blood: Pakistani Academic
12:33 PM | 2022-08-06 859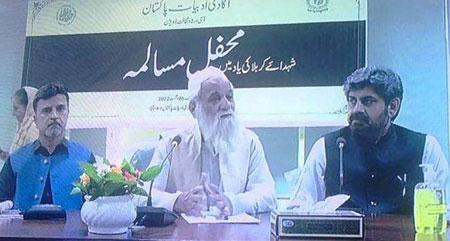 The incident of Karbala is the story of Hazrat Imam Hussain (AS) and his Ahlul-Bait's truthfulness, bravery, and self-sacrifice, which was written with his own blood.
This story is completely free from any worldly interest and greed. That is why its brilliance increases with every passing moment.
According to Pakobserver.net, these views were expressed by Dr. Yousuf Khuskh, Chairman Pakistan Academy of Letters (PAL) while presenting the key-note address at the "Mehfil-e- Masalama" held in memory of the martyrs of Karbala organized by the PAL.
Dr. Yousuf Khushk, Chairman, PAL said that the incident of Karbala drew a boundary between the right and the wrong, the oppressed and the oppressor which cannot be erased from the rest of the world. On the one hand, this incident exalted the religion of Islam and on the other hand, it determined the lifestyle known as Hussainism.