A National Quran reading plan to be implemented in Iraqi cities, Karbala included
09:57 AM | 2022-04-10 647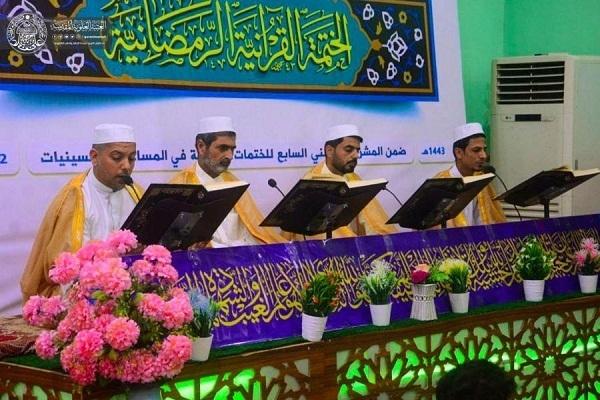 A national plan for reading the entire Quran from the first to last Juz (part) of the Quran in the holy month of Ramadan is being implemented in different provinces of Iraq, Iqna.ir reported.
The Quran has 30 Juzes and those taking part in the initiative read one Juz every day.
Sayyed Ammar al-Mousawi, the coordinator of the plan, said its implementation began on the first day of Ramadan at the holy shrine of Imam Ali (AS).
"40 mosques and religious centers in the provinces of Basra, Dhi Qar, Muthanna, Diwaniya, Wasit, Babil, Najaf, Karbala, Diyala, Saladin, Nineveh, Sulaymaniyah, and Kirkuk are hosting the Quran reading programs," he added.
He noted that preparations for the programs had been made by the General- Secretariat of the holy shrine before the arrival of the holy month.
Al-Mousawi added that two qaris recite one Juz of the Quran in the reading sessions every day.
Ramadan is the ninth month in the Islamic calendar. It is a period of prayer, fasting, charity-giving, and self–accountability for Muslims around the world.
During Ramadan, Muslims fast (abstain from foods and drinks) from sunrise to sunset.
They also devote a considerable amount of time during this month to reading and contemplating the Quran.